Basque Food 101
Our friend Jesus Gonzalez, also known as InstaJesus, received a crash course on Basque food in Bakersfield. Read about his first experience in one of Bakersfield's oldest Basque restaurants, Noriega Hotel—how he enjoyed the food, the dinner company, and what he learned about the Basque culture.
Since moving to Bakersfield four years ago, I've frequently heard about the unique experience of dining at a Basque restaurant from my friends and co-workers. I didn't try it until recently, though. Truth be told, I was kind of afraid to try some of the delicacies I had heard about—like pickled tongue! Basque food didn't sound like it would be my cup of tea, but, as the old saying goes, don't knock it till you try it.
I decided I would finally try the full Basque experience with my newfound friend Beth Chaney, Bakersfield's resident expert on all things Basque. We met at Noriega's on the east side about an hour before supper. The restaurant's bar, which resembles the lobby of an old hotel, was packed with people waiting to be seated for dinner. People were laughing with one another, meeting strangers and enjoying their time as if they were family who hadn't seen each other in the longest of times.
Out of a sea of conversations, a lovely lady's voice shouted the name of the first family to be taken back and seated in the dining hall. One by one, groups were led into an expansive room decorated with mementos and photos from the Basque families of yesteryear. As the bar emptied, the three long rows of tables and chairs in the dining hall filled. Strangers were seated next to one another. It felt a little awkward at first, but everyone was so friendly that conversations ensued almost immediately. Suddenly, the hall was buzzing with life just like the bar had been.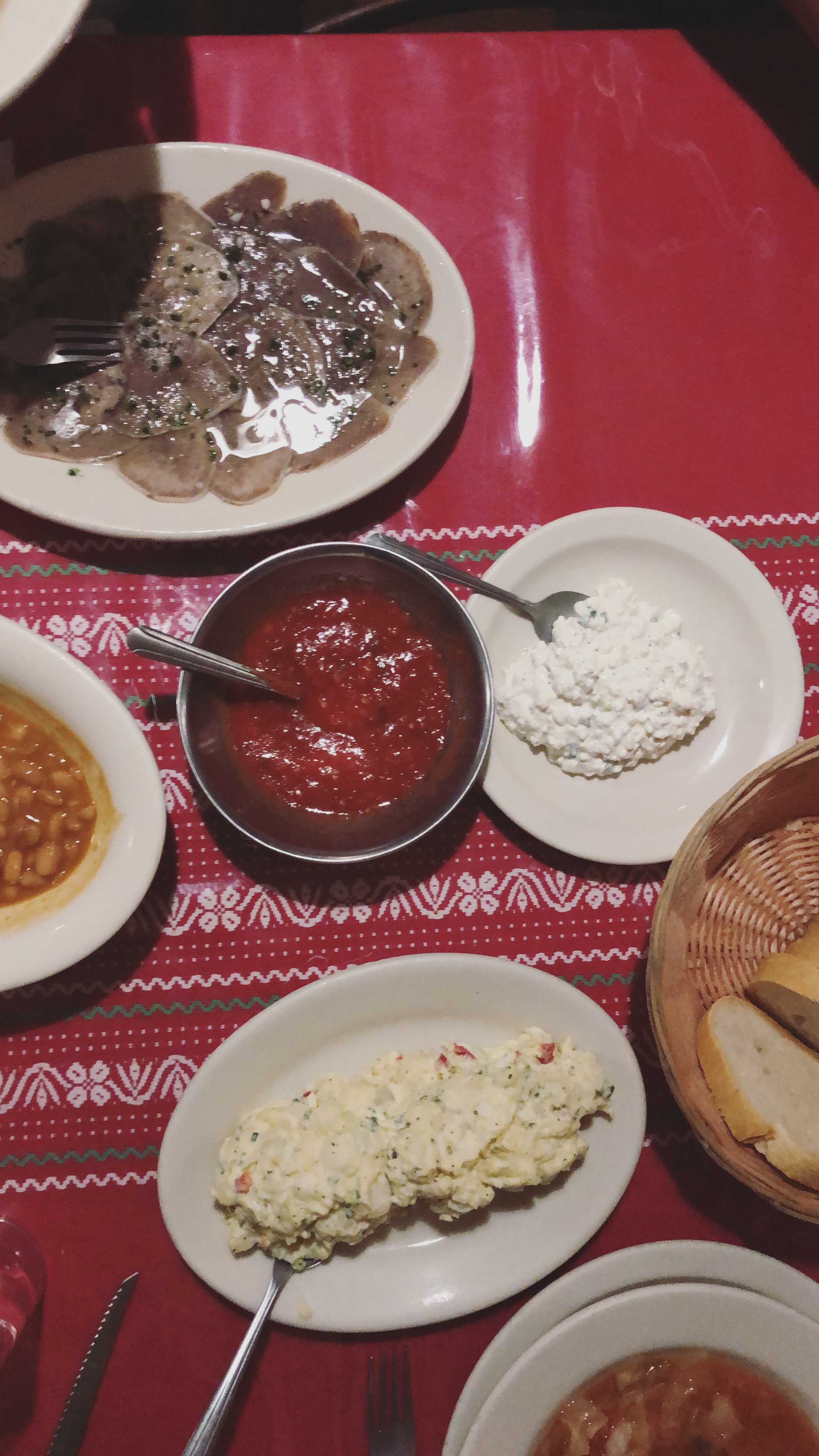 Picked tongue, beans, salsa, cheese, potato salad, bread + soup.
And then the SETUP came. Beth explained it as a family-style meal, and she was not kidding. The server brought out what seemed like a never-ending amount of food. We started our meal with a traditional Basque vegetable soup, traditional Pyrenees bread, blue cheese and . . . pickled tongue! I didn't have the courage to try the pickled tongue right away, but the stranger in front of me convinced me, and I succumbed to peer pressure. It was a very unique taste—similar to that of beef carpaccio but soaked in vinegar. If you're adventurous, you should absolutely give it a try.
The second round of food was giant mounds of spaghetti, more bread, broccoli covered in mayo and the most delicious fried chicken I have had in a while. After all that, they topped it off with a scoop of vanilla ice cream!
When I asked why so much was served, Beth told me that, back in Basque country, sheepherders would spend all day working and would come home from the field famished, so their families would make these hearty feasts for them.
All in all, it was a wonderful experience with Beth, and I got to experience such a unique subculture of the central valley that contributes to what makes Bakersfield so unique and special.
This is Bernadette. She's been cooking meals at Noriega's for over 50 years and started cooking under the grandmother of Noriega's current owner. Bernadette is originally from the Pyrenees, a mountain range on the border of France and Spain. She came to Bakersfield in 1964 to join her brother, who was a sheep farmer, and to see America. When describing a Basque family-style dinner and the bounty of food that is served at Noriega's, she says, "We want you to feel like you're eating at home. And if you want more food, then we bring it to you."